The Greatest of All Time
Sep 17, 2017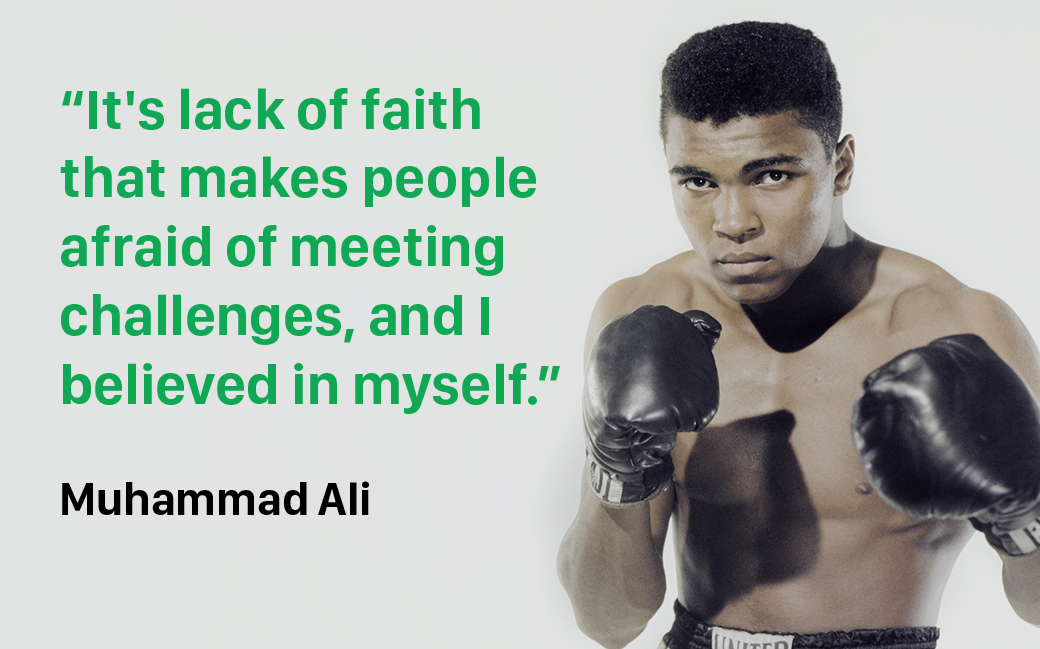 Despite his talent for creating poems before the fights, he hated to read. In fact, Ali was dyslexic, and barely graduated from high school.
"I never said I was the smartest, I said I was the greatest,"

Muhammad Ali
When Muhammad was young someone stole his bicycle. He went to report the crime to police officer Joe Martin, who was also a boxing coach. When Muhammad Ali said he wanted to beat up the person who stole his bike, Joe told him that he should learn to fight first. He began training Joe. Soon Ali began taking his diet seriously avoiding alcohol, cigarettes and the junk food he loved.
Ali became professional in 1960. He had won 29 matches in a row. When he won the World Heavyweight Title from Sony Liston in 1964 he was the youngest person to take the title. The day after winning the championship, he changed his name from Cassius Clay and announced his conversion to Islam.
Because of his religious beliefs in 1960 Ali refused to be inducted into the armed forces. Muhammad Ali was banned from boxing and stripped of his heavyweight title. He was also charged of five years in prison which meant his boxing career was almost over.
After victory in federal court Ali returned to the ring in 1970 with a win over Jerry Quarry. The fight went the full 15 rounds, with both fighters still standing at the end but by unanimously decision Ali lost making the fight his first professional defeat. But in 1974, Ali came back to defeat Joe Frazier after a tough climb to the top.
In 1974 Ali got chance to fight for Heavyweight Title with George Foreman. Ali was much slower and older than he used to while Foreman was considered to be unbeatable. For the second time But Ali made history when he won that fight in eight-round and for the second time become the heavyweight champion of the world.
In 1978, Muhammad Ali was extremely surprised when novice boxer Leon Spinks beat him. Ali admitted that he was not at his best and vowed to win back the title in a rematch. He won and became the first person to win the Heavyweight title three times.
Muhammad Ali finished his career with 56 wins (37 by KO) and 5 losses. Unfortunately, all of these fights took a toll on Muhammad Ali's body. After suffering increasingly slurred speech, shaking hands, and over-tiredness, Muhammad Ali was diagnosed with Parkinson's syndrome in 1984.
In his retirement, Ali devoted much of his time to philanthropy also supported the Special Olympics and the Make-A-Wish Foundation. "Ali traveled to numerous countries, including Mexico and Morocco, to help out those in need. In 1998, he was chosen to be a United Nations Messenger of Peace because of his work in developing nations."
Muhammad Ali considered one of the greatest heavyweights of all time by boxing commentators and historians passed away on the evening of June 3, 2016, at a Phoenix, Arizona facility.
comments powered by